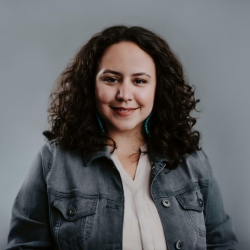 Ana Terminel Iberri
Assistant Professor
Email: atermineliberri@sfsu.edu
Location: HUM 426
Please consult your course syllabus or contact the instructor directly for office hours.
Ana Terminel Iberri (she/ella) is an Assistant Professor in Critical Communication Pedagogy at San Francisco State University. She earned her Ph.D. in Communication Studies at Arizona State University, where she researched the potential of communication pedagogy in community settings with Latinx youth. As an interdisciplinary communication scholar, Terminel Iberri is interested in interrogating mundane communication practices and the ways in which these constitute larger systems of oppression. Drawing from Communication Studies, Education, Ethnic Studies, and Gender Studies, Terminel Iberri embraces critical qualitative, rhetorical field methods, and performance to center the experiences of marginalized people to understand how they challenge and resist oppression in their daily lives.  
Her work can be found in Communication Education, QED: A Journal in GLBTQ Worldmaking, and International Review of Qualitative Research.