Students are urged to carefully review the section on Graduate Studies Requirements and Procedures. View the Bulletin and Class Schedule.  Here you can find out more about how to apply, what courses to take and graduate teaching opportunities.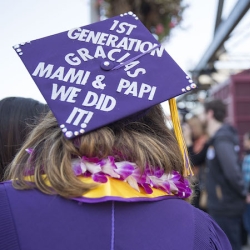 If you need further information about graduate study, go to the Division of Graduate Studies website, email to gadmit@sfsu.edu or call (415) 338-2234.
The Division of Graduate Studies is located in the Administration 254. 
Check SFSU Gateway for your personal records.
A University-wide graduate student orientation is offered before the fall semester.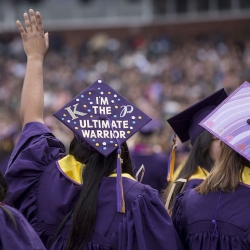 If you need further information about the Communication Studies Department, please email comm@sfsu.edu or call the department office at (415) 338-1597.
You may also contact the graduate coordinator at:
Dr. Fatima Alaoui, Graduate Coordinator
Communication Studies Department
Phone: (415) 338-3171
Email: available upon request from comm@sfsu.edu
Applicants to our program generally have an undergraduate major in Communication Studies, an overall or upper-division grade-point average of 3.0 or higher, and a 4.0 or higher score on the Analytical Writing portion of the GRE.
Applicants who have not majored in Communication Studies as undergraduates may still be considered for admission if their undergraduate course of study is closely related to Communication Studies. If admitted, applicants without a Communication Studies undergraduate degree may be required to complete upper-division courses in Communication Studies as prerequisites to achieving fully admitted "classified" standing. Applicants who did not receive a 4.0 on the GRE may be considered if their overall academic record is strong and they are a good match with the program mission and focus. Applicants admitted with a less than a 4.0 on the analytic writing portion of the GRE will be asked to take an approved writing course in their first semester and will be considered conditionally admitted until they have successfully completed an approved writing skills course and it is clear they do not struggle with writing in the program. Any courses completed as prerequisites for advancement to classified standing will not be applied toward the 35-unit program requirement.
Timelines, further instructions, and related information are available at SF State's Division of Graduate Studies.
Please email comm@sfsu.edu if you have any questions. 
The Master's program in Communication Studies admits students once a year for Fall semester start only. Candidates should submit all application materials directly to the Cal State Apply portal. March 1 is the priority admission deadline to be considered for Fall semester start of the same calendar year. If there are slots available in the program after the initial offers of admissions, the graduate admissions committee will consider applications that are completed after March 1 on a rolling basis. Please note that the Communication Studies department does not offer training specific to journalism and mass media. (Please see the Department of Broadcasting and Electronic Arts website at SFSU for focus in these areas)
The following applications materials must be uploaded to Cal State Apply for the admissions committee to consider your application complete:
A statement of purpose should focus on the applicant's objectives for pursuing a Master of Arts degree in Communication Studies at San Francisco State. The statement of purpose should also ideally demonstrate that the applicant has considered the characteristics of this particular program and should address how the program is a good fit for the applicant's background, interests and goals.

Unofficial transcripts from all colleges and universities previously attended will be required initially. The Graduate Studies office will require official transcripts if the applicant is offered program admission.  

Two to three letters of recommendation should be provided from former professors who can evaluate the applicant's capacity for doing graduate-level work in communication studies. Assessment of the applicant's oral and written communication skills are particularly important. The letters should be on department letterhead and the e-mail link the recommender uses to upload the letter must be an institution e-mail.

Graduate Record Examinations (GRE) scores are required. The department puts the greatest emphasis on the analytic writing (essay portion) of the exam. Applicants are expected to achieve a 4.0 in order to be admitted with standard "classified" standing.  

Urgent Update: As the conditions around COVID-19 continue to rapidly change, the Communication Studies Department recognizes the impact this change can have on our prospective students. As ETS testing centers are closing, we decided that the GRE will not be required this admission cycle, even if the applicant submitted it. All applicants will be equally reviewed using writing samples in lieu of GRE score. Should you have any questions, please do not hesitate to contact our Graduate Coordinator, Dr. Fatima Alaoui: fzalaoui@sfsu.edu.     

A sample of academic writing should be uploaded and should be a significant research paper written for an upper-division course.
Required Courses
COMM 700 Introduction to Graduate Study (4 units)
One of the following: (4 units)
COMM 870: Multiple Methods in Communication Research
COMM 871: Communication Research Strategies
COMM 872: Field Research Methods
COMM 873: Research Strategies and Social Interaction
Four seminars in Communication Studies (Choose from COMM 701 – 798): (16 units)
COMM 721: Seminar in Rhetorical and Communication Theory
COMM 725: Seminar in Sexual Identities and Communication
COMM 731: Seminar in Communication and Social Criticism
COMM 740: Seminar in Interpersonal Communication
COMM 742: Seminar in Group Communication Theory and Practice
COMM 744: Seminar in Environmental Communication
COMM 745: Seminar in Gender and Communication
COMM 750: Seminar in Communication and Culture
COMM 755: Conflict and Communication
COMM 760: Seminar in Organizational Communication
COMM 761: Seminar: Corporate Communication
COMM 773: Seminar in Language and Social Interaction
COMM 780: Studies in Contemporary Theory
COMM 797: Performance Theory and Practice in Communication
Electives in consultation with adviser: (8 units)
One of the following culminating experiences: (3 units)
COMM 894: Creative Work Project
COMM 896: Directed Readings in Communication Studies and COMM 896EXM: Culminating Experiences Examination
COMM 898: Master's Thesis
Minimum total: 35 Units
Note: No more than eight units may be from upper-division undergraduate courses, regardless of the department. No more than eight units — graduate or undergraduate — may be from allied departments. No more than eight units in any combination of COMM 850, 851, 852, 855, 885 or 899 may be included in the 35-unit minimum. A maximum of four units in 851, 852, 885 is allowed as part of the 35-unit minimum. Students may take additional units over the minimum.
Qualified graduate students have the opportunity to be hired to teach our required basic course: COMM 150, Fundamentals of Oral Communication.
Qualifications include: passing the Level One Written English Proficiency Requirement, successful completion of COMM 850-Seminar in Teaching Communication Studies, COMM 851-Internship in Teaching Communication Studies and active enrollment in a minimum of four units during the teaching appointment.
Applications for teaching are made to the department's hiring committee, which screens qualifications and makes recommendations to the department chair. Those selected to teach as teaching associates must enroll in COMM 852, Supervised Teaching.
The salary for teaching one three-unit section is approximately $2,645.00 per semester. TAs are eligible to teach for four semesters during their graduate program.
The deadline to apply for graduation comes within the first two weeks of the semester in which the candidate plans to graduate.
As with all University policies, deadlines are specified each term in the University Calendar. The application form, available at the Division of Graduate Studies, requires payment of a graduation fee at the Cashier's Office, after which the department chair and College of Liberal & Creative Arts graduate coordinator must sign this form. A copy of the Advancement to Candidacy (ATC) form and an unofficial transcript must accompany the application. Eligibility for graduation at this point includes verification that the student is properly classified and has an ATC on file.
The Division of Graduate Studies will not approve applications for graduation for a specific semester until all graduation requirements have been met, including completion of all coursework and filing of the Report of Completion of Specified Graduate Requirements form that documents the completion of the culminating experience. If a candidate does not graduate in the semester as planned, she or he must reapply and be reconsidered in a subsequent semester. No more than seven years can elapse between the start of the term of the earliest dated course on the ATC and the date the last course is completed and the application for graduation has been submitted.
To be eligible for graduation, several forms must be submitted throughout your course of study to both the Communication Studies Department and the University. Most of the University forms can be found online at the Division of Graduate Studies.
University Forms for Graduate Study
Advancement to Candidacy (ATC) form for Communication Studies
Proposal for Culminating Experience
Protocol Approval Form – Human Subjects (PAF)
Report of Completion of Specified Graduate Program Requirements
Application for Graduation