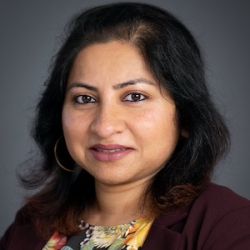 Ashmi Desai
Assistant Professor
Email: ashmidesai@sfsu.edu
Location: Humanities 433
Please consult your course syllabus or contact the instructor directly for office hours.
Ashmi Desai completed her Ph.D. in communication from University of Colorado, Boulder, where she received the Provost Fellow Award in Information Science and the International Student of the Year Award. Her master's degree in Development Communication is from Gujarat University in India.
Desai is certified for dialogue facilitation on divisive issues, intercultural development facilitation and college teaching. She has served in senior positions at two community-based organizations: United Nations Association of Boulder County and Nothing But Nets. She also has experience as a journalist with The Times of India ​daily in South Asia.
Through research, pedagogy and community engagement, Desai is committed to finding ways to make communication more meaningful, inclusive and authentic across intersectional identities and contexts. In her free time, she enjoys film appreciation, yoga, podcasting, hiking and cooking spicy Indian cuisine.