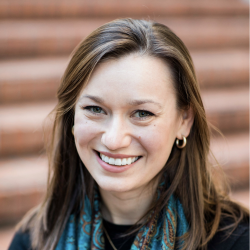 Alexandra Hinck
Assistant Professor
Email: ahinck@sfsu.edu
Location: HUM 435
Please consult your course syllabus or contact the instructor directly for office hours.
Alex Hinck is an Assistant Professor in the Communication Studies Department at San Francisco State University. Her research interests center around identity and relational management through the use of communication and information technologies—especially within online communities and support groups. She is particularly interested in the social and structural complexities of interpersonal communication for individuals who experience stigma. The goal of her research is to better understand how emerging technologies accentuate and dissipate stigmatized identities and explore ways in which technologies can form stronger relationships and more inclusive communities. 
Hinck holds a Ph.D. and M.A. in Communication from Cornell University. Her B.A. is in Psychology from Beloit College. At San Francisco State University, she teaches Graduate and Undergraduate Courses on interpersonal communication and research methods.