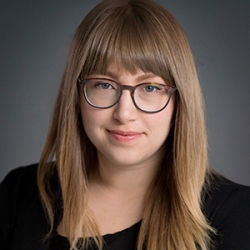 Constance Gordon
Assistant Professor
Chair of Curriculum, T/TT CFA Rep
Email: cgordon@sfsu.edu
Location: HUM 245
Please consult your course syllabus or contact the instructor directly for office hours.
Constance Gordon is an Assistant Professor in the Department of Communication Studies at San Francisco State University. She is also a member of SF State's Climate Justice Leaders Initiative and is Core Faculty and Advisor in the Climate Change: Causes, Impacts, and Solutions Certificate Program. Broadly, Gordon's interests involve how communication shapes food and environmental imaginaries, and how organizing helps cultivate more just futures, especially worldmaking within and against uneven development and dispossession. Her research attends to intersections of environmental communication, critical organizational communication, cultural studies, critical rhetoric, food justice, environmental justice, and critical geographies.
Gordon holds a Ph.D. and M.A. in Communication from the University of Colorado Boulder where she also received Graduate Certificates in Development Studies and Comparative Ethnic Studies. Her B.A. is in International Relations from San Francisco State University. At SF State, she teaches graduate and undergraduate courses on environmental communication, organizational communication, and leadership for social change. She is the incoming lead of a new Climate Ambassadors course to be launched in 2023.