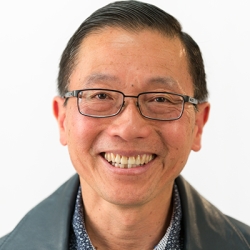 Email: gyep@sfsu.edu
Location: HUM 556
Please consult your course syllabus or contact the instructor directly for office hours.
Gust A. Yep (Ph.D., University of Southern California) is Professor of Communication Studies, Graduate Faculty of Sexuality Studies and Faculty in the Ed. D. Program in Educational Leadership at San Francisco State University. In addition, he is a faculty member in the Metro Academies Program for first-generation college students at the university. His work focuses on communication at the intersections of culture, race, gender, sexuality, nation, and health in a variety of contexts.
Dr. Yep is a recipient of numerous teaching, mentoring, research, and service awards from local communities, universities, and regional and national professional organizations. He was recognized for his teaching and mentoring by the National Communication Association (NCA), including spotlights of his teaching at several national conferences. He was also recipient of the NCA "Outstanding Mentor in Master's Education" Award. His research earned him the NCA Randy Majors Memorial Award for "outstanding lesbian, gay, bisexual, and transgender (LGBT) scholarship in communication" and the Association for Education in Journalism and Mass Communication (AEJMC) Leroy F. Aaron Award for "significant contributions to LGBT media research and education," and the San Francisco State University Distinguished Faculty Award for Professional Achievement (Researcher of the Year), among others. His work in communities of color and gender and sexual minorities has been recognized in both southern and northern California.
Dr. Yep teaches a variety of undergraduate and graduate courses. He created and designed COMM 304GW (Writing in Communication and Masculinities), COMM 403 (Transgender Communication Studies), COMM 504 (Communication and Masculinities), and COMM 725/SXS 810 (Graduate Seminar in Communication and Sexualities). In addition to these courses, he teaches COMM 150 with a social justice focus for Metro Academies, COMM 502 (Interpersonal Communication), COMM 503 (Gender and Communication), COMM 525 (Communication and Sexualities), COMM 527 (Health Communication), and COMM 541 (Critical Approaches to Culture and Communication). At the graduate level, he teaches COMM 700 (Graduate Study in Communication) COMM 745 (Seminar in Gender and Communication), COMM 750 (Seminar in Communication and Culture), and COMM 872 (Field Research Strategies).
Dr. Yep is a prolific researcher. In addition to three books and a book-length monograph, he has published about one hundred articles and book chapters in disciplinary and interdisciplinary journals and anthologies. He is the lead editor of Queer Theory and Communication: From Disciplining Queers to Queering the Discipline(s) (Haworth Press/Routledge Publications) and an upcoming project on queer relationalities.
Dr. Yep has served numerous professional organizations and community groups. He is currently an associate editor for several academic journals. In addition to serving numerous departmental, college, and university committees, he is a member of the leadership team of Queer Dharma at the San Francisco Zen Center and volunteers for the San Francisco Animal Shelter.